Post by Joe McParland on Feb 11, 2007 9:46:36 GMT -5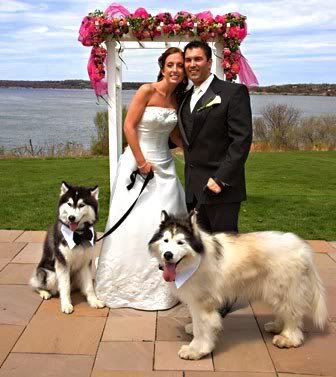 A dog in the wedding party? It works sometimes
Friday, October 08, 2004
Kathleen Murphy Colan
Special to the Plain Dealer
When Laura and Bob Mutsko tied the knot at St. Bede's Catholic Church in Mentor in 1999, they had a traditional ceremony with one very untraditional participant.
Murphy, their so-called "only child," obediently walked up the aisle, presented the ring and stood and sat along with the congregation through the whole ceremony.
Murphy is the couple's 9-year-old dog; he was 4 at the time.
"He was perfect; he didn't miss a beat or a cue. He's really like a human with fur," Laura says.
Several of the guests came just to see Murphy, Laura says.
Some said they couldn't believe the church would allow pets in weddings, but the Mutskos did get permission from their pastor, the Rev. John Sullivan, to include the pooch. The priest relented on the basis that all creatures are from God.
"The only person we didn't tell beforehand was my father," Laura says. "We figured there would be less stress." She says her father still hasn't mentioned it.
Fatherly stress aside, the odds that including a pet in your wedding will turn out as positively as the Mutskos' experience are against you.
"There are so many things to consider. And the most important question to ask yourself is, is your dog well-trained?' " says Charlotte Reed, a former attorney who started Two Dogs & A Goat, a Manhattan pet-service company, eight years ago.
Reed also is a national pet expert and serves on the New York State Veterinary Board. She says including pets, particularly dogs, in weddings has become more frequent.
"Dogs are the new kids. There are more single-sex marriages and couples who choose not to have children, so I'm seeing many more clients who want to include their pets in all types of family celebrations," Reed says.
Six years ago, Reed assisted with a "pet wedding" for the first time. She says a mother-in-law insisted on walking down the aisle with her poodle. The bride feared that her future in-law would drink too much and lose sight of the poodle, so she sought Reed's help.
Since then, Reed has been advising high-society clients on the do's and don'ts of including pets in wedding ceremonies.
She charges anywhere from $300 to $1,000, depending on how much pre-training is needed and how long the couple requests the dog handler to stay at the festivities.
If you're thinking about making your pet a part of your special day, Reed offers this advice.
Is your dog well trained? If your great Dane is a barker or your golden retriever likes to jump, usually it's not a good idea to include them. Including your pet needs to make sense for the situation.
Work on obedience long before the big day. For example, practice having the pet sit in a receiving line or familiarize it with the ceremony space.
Hire a professional pet handler for the day. This person usually is responsible for getting your pet to and from the event, and arranging for toilet breaks and food and water.
Choose an appropriate outfit for your pet. Don't put human jewelry on an animal, especially around the neck. Many clients choose a special bandana or crystal collar with matching leash. Some have custom-made tuxedos, embroidered with special wishes. (See accompanying box for retailers).
Don't choose floral arrangements for dogs. Wedding flowers often are constructed with wire that could injure the pet. Also, some flowers are poisonous.
It's never a good idea to let your dog run loose, especially around children it's not used to.
If your dog hasn't mastered the basic commands of "come, sit and stay," you shouldn't include it in the wedding.
Get permission from the venue owner to bring a pet. Some hotels and party centers will allow pets, but not all.
DETAILS:
The right stuff
Looking for the perfect pet attire for the wedding? Check out these Web sites for some entertaining options:
At pawtytime.com, you'll find dozens of costumes including a complete tuxedo and top hat ($19.95)
Petsmart.com offers bone-shaped tiaras ($22), gold-toned charm necklaces ($15), pink tutus ($24.99) and a pearl collar ($15).
© 2004 The Plain Dealer. www.cleveland.com