Post by Joe McParland on Jan 19, 2007 16:27:57 GMT -5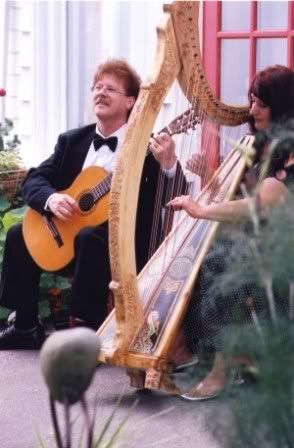 By Vicki Churchill
If you go back to the early wedding of the 16th century the wedding songs played an integral part of the ceremony. The tradition was for the bride to be led down the alter by her farther accompanied by the wedding songs of their choice usually something slow and fairly quiet. After the vows had been taken she then walked back down the aisle with her new husband accompanied by a much livelier tune signifying the happiness of the occasion.
So what wedding songs to choose? This can be a difficult task as there is so much out there to choose from. Are you having a traditional or a contemporary wedding? Depending on the type of wedding you are having will probably reflect the type of music that you will have.
The wedding songs that you will choose will affect the whole mood of the celebrations and therefore need careful thought. If it is to be a traditional type of wedding then maybe you will opt for the more traditional types of wedding songs e.g. Wedding March by Mendelssohn's and the ever popular Bridal Chorus by Wagner better known as here comes the Bride. Maybe you are having a traditional wedding but do not want to stick to the traditional wedding songs, by choosing different ones you will make your wedding celebration much more memorable to your guests.
Are there any contemporary or classical pieces of music that you and you partner find memorable to you both? If so maybe you could have these as your wedding songs which will serve as a reminder of you very special day.
How about hiring a vocalist or a musician to play your wedding songs live, this would certainly change the whole mood of the occasion. However you would need to check with your church venue etc that they would be happy with this arrangement.
The most important thing to remember when choosing your wedding songs is to make it personal to you and your partner. Do not try to please your guests, this is your day and the wedding songs are being played for you so make sure they are what you want
After you have chosen the song you wish to be played when walking down the isle you need to work out the songs you would like played at your wedding reception.
The First dance in always important as this is where the newly married bride and groom dance together in front of the guests.
Usually the bride and groom will use a song that is special to them or has some memories associated with for the first dance.
www.perfectweddingtableideas.com