Post by Joe McParland on Dec 14, 2008 12:36:52 GMT -5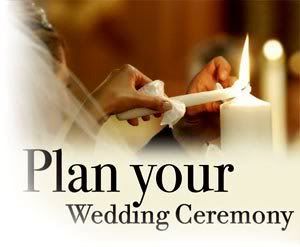 EXCHANGE OF RINGS1.
_______________, I give you this ring, that you may wear it, as a symbol of the vows, we have made this day. I pledge you my love and respect, my laughter and my tears. With all that I am I honour you.
2.
_______________, I give you this ring, to wear upon your hand, as a symbol of my endless commitment and love for you.
3.
_______________, this ring is a symbol of the strength and beauty of our love. May it belong to your hand as my heart belongs to you, separate but close, simple yet miraculous.
4.
____________, just as this circle is without end, my love for you is eternal. Just as it is made of indestructible substance my commitment to you will never fail. With this ring I take you to be my trusted confidante and partner for life.
5.
________________, I accept you just as you are today. I give to you my promise that from this day forward, you will not walk alone. We will walk forever side by side, rich in laughter, close in friendship. Feel deeply loved, for you are. With this ring, I give you my heart. I have no greater gift to give. I promise to dream with you, and to work to make our dreams come true. I promise to be faithful to you, and never to allow anything to build a wall between us. I feel so honored to call you mine. With this ring, a symbol of my love for you, I take you to be my wife/husband.
6.
________________, I take you to be no other than yourself, loving what I know of you, trusting what I do not yet know, with respect for your integrity and faith in your love for me through all our years and in all that life may bring us.
7.
________________, I offer this ring as a symbol of my love and devotion. Let it always be a reminder of my vows to you.
OPTIONAL CEREMONIES Hand Blessing Ceremony
Please present your hands palms up, so that your beloved may see the gift you are offering to each other.
•These are the hands of your best friend, young and strong and full of love for you.
•These are the hands that are holding yours on your wedding day as you promise to love each other today, tomorrow and forever.
•These are the hands that will work along side yours as together you build your future.
•These are the hands that will passionately love you and cherish you through the years and with the slightest touch will comfort you like no other.
•These are the hands that will hold you when fear or grief try to overwhelm you.
•These are hands that will wipe tears from your eyes countless times, both tears of joy and tears of sorrow.
•These are the hands that will help hold your family together as one.
•These are hands that will give you strength when you need it.
•These are the hands that even when wrinkled with age, will still be reaching for the hand of your beloved, still giving the same unspoken tenderness with just a touch.
•These are the hands of your best friend, young and strong and full of love for you.
(optional)
God, bless these hands that you see before you this day. May they always be held by one another. Give them the strength to hold on during the storms of stress and the dark of disillusionment. Keep them tender and gentle as they nurture each other in their wondrous love. Help these hands to continue building a relationship founded in your grace, rich in caring, and devoted in reaching for your perfection. May _____ __and ________ see their four hands as healers, protectors, shelter and guides. AMEN
The Rose Ceremony for the Couples
The Rose Ceremony is simple yet profoundly moving. The bride and groom exchange two red roses, symbolizing the giving and receiving of their love for each other throughout their entire married life. The Rose Ceremony also conveys how to use the rose and its symbolism in difficult times in order to forgive each other.
"Your gift to each other for your wedding today has been your wedding rings - which shall always be an outward demonstration of your vows of love and respect; and a public showing of your commitment to each other.
You now have what remains the most honorable title which may exist between a man and a woman - the title of "husband" and "wife." For your first gift as husband and wife, that gift will be a single rose.
In the past, the rose was considered a symbol of love and a single rose always meant only one thing - it meant the words "I love you." So it is appropriate that for your first gift - as husband and wife - that gift would be a single rose.
Please exchange your first gift as husband and wife. In some ways it seems like you have not done anything at all. Just a moment ago you were holding one small rose - and now you are holding one small rose. In some ways, a marriage ceremony is like this. In some ways, tomorrow is going to seem no different than yesterday. But in fact today, just now, you both have given and received one of the most valuable and precious gifts of life - one I hope you always remember - the gift of true and abiding love within the devotion of marriage.
_________ and _____________, I would ask that where ever you make your home in the future - whether it be a large and elegant home - or a small and graceful one - that you both pick one very special location for roses; so that on each anniversary of this truly wonderful occasion you both may take a rose to that spot both as a recommitment to your marriage - and a recommitment that THIS will be a marriage based upon love.
In every marriage there are times where it is difficult to find the right words. It is easiest to hurt who we most love. It is easiest to be most hurt by who we most love. It might be difficult some time to words to say "I am sorry" or "I forgive you"; "I need you" or "I am hurting". If this should happen, if you simply can not find these words, leave a rose at that spot which both of you have selected - for that rose than says what matters most of all and should overpower all other things and all other words.
That rose says the words: "I still love you." The other should accept this rose for the words which cannot be found, and remember the love and hope that you both share today.
__________ and ________, if there is anything you remember of this marriage ceremony, it is that it was love that brought you here today, it is only love which can make it a glorious union, and it is by love which your marriage shall endure."
ROSE CEREMONY FOR THE TWO MOTHERS
Marriage is a coming together of two lives and a celebration of the love of two people. But it is more. The love that _____ & ______ feel for one another is the flowering of a seed that their parents planted in their hearts years ago.
Today, as they embrace one another in their love, so do they embrace the families which have come together to celebrate with _____ & ______ on this happy occasion.
As a sign of their love for their families, _____ & ______ would like to offer these roses, to their mothers, _____ & ______, as symbols of their eternal love.
_____ & ______, (bride) & (groom) would like you to know that your efforts were not in vain and that your love and support is very much appreciated. They thank you for everything you have instilled in them. These roses are a promise that no matter how far away you are that you are not forgotten, and a reminder that you are always in their hearts.
(OPTIONAL)
&
WHISKEY SHOTS FOR THE FATHERS

And not to leave the fathers out of this, ___________invite their fathers, ____________, to now come forward now and do what many proud fathers do – a shot of whiskey for their children. Whiskey has long been known as "Aqua Vitae" – the Water of Life.
The term was in wide use during the Middle Ages, although its origin is much earlier. Since Robert and Douglas have obviously had a significant part in the lives of ___________, it is only fitting that they now toast the new life ___________now embrace.
I invite _____________to pour their dads a healthy shot of Aqua Vitae…
The Sand Ceremony
_______ and _______, you have just sealed your relationship by the giving and receiving of rings and the exchange of a kiss, and this covenant is a relationship pledge between two people who agree that they will commit themselves to one another throughout their lives. The most beautiful example of this partnership is the marriage relationship. You have committed here today to share the rest of your lives with each other.
Today, this relationship is symbolized through the pouring of these two individual containers of sand one, representing you, _______ and all that you were, all that you are, and all that you will ever be, and the other representing you, _______, and all that you were and all that you are, and all that you will ever be.
(Children can be included here as well…)
As these two containers of sand are poured into the third container, the individual containers of sand will no longer exist, but will be joined together as one. Just as these grains of sand can never be separated and poured again into the individual containers, so will your marriage be.
Loving Cup Ceremony (wine ceremony)
OFFICIANT: The Loving Cup ceremony is a wedding tradition dating back to the fifteenth century. It allows ______ & _________, who have just committed to live as husband and wife, to share this drink together and to show the coming together of two families.
Traditionally, the cup is passed down from generation to generation, ensuring happiness and good fortune to all who drink from it. This is a special moment for _______ & _______ to toast their love, devotion, and friendship.
Officiant with hands over the wine:
The years of life are as a cup of wine poured out for you to drink. This Loving Cup contains within it a wine with certain properties that are sweet and symbolic of happiness, joy, hope, peace, love and delight.
This same wine also holds some bitter properties that are symbolic of disappointment, sorrow, grief, despair, and life's trials and tribulations.
Together the sweet and the bitter represent "Love's Journey" and all of the experiences that are a natural part of it. For all who share the wine from this Loving Cup, so may you share all things from this day on with love and understanding.
Those who drink deeply from the Loving Cup with an open heart and willing spirit, invite the full range of challenges and experiences into their being for themselves and ________ & ________.
Officiant holds the full Loving Cup up for those in the audience to see.
Officiant: This cup of wine is symbolic of the cup of life. As you all share the wine from the Loving Cup, you undertake to share all that the future may bring. It represents the blessing given and passed on to each participant in this ceremony.
All the sweetness life's cup may hold for each of you will be the sweeter because you drink it together. Whatever drops of bitterness it may contain will be less bitter because you share them.
Drink now, and may the cup of your lives be sweet and full to running over.
After family and friends have sipped wine from the Loving Cup, it is passed back to the officiant. He then holds up the Loving Cup and says the following to _______ & _________:
This Loving Cup is symbolic of the pledges you have made to one another to share together the fullness of life. As you drink from this cup, you acknowledge to one another that your lives, separate until this moment, have now become one.
Officiant: Now drink to the love you've shared in the past.
________ & __________ sip from the Loving Cup
Officiant: Drink to your love in the present, on this your wedding day.
_________ & __________ sip from the Loving Cup
Officiant: And drink to your love in the future and forever more!
____________ & __________ sip from the Loving Cup and hand it back to the officiant.
Officiant:
As you have shared the wine from this Loving Cup, so may you share your lives. May you explore the mysteries of the Loving Cup and share in the reflection of love in one another's soul. From love all things proceed and unto love they must return.
Unity Candle Ceremony
______ and _________, this candle you are about to light is a candle of Marriage. Its fire is magical because it represents the light of two people in love.
This candle before you is a candle of Commitment because it takes two people working together to keep it aflame.
This candle is also a candle of Unity because both must come together, giving a spark of themselves, to create the new light.
_______ and ________, would you both please now light the candle.
As you light this candle today, may the brightness of the flame shine throughout your lives. May it give you courage and reassurance in darkness; warmth and safety in the cold; and strength and joy in your bodies, minds and spirits. May your union be forever blessed.

Glass Breaking Ceremony and Pronouncement
The "glass" is wrapped in a white napkin or towel. A family member will hand the officiant the towel containing the glass and he places the glass on the ground before the groom. The officiant will say a few words to explain the significance of the breaking of the glass]:
There have been many stories explaining the breaking of the glass. For those of us here today, it serves to remind us of several very important aspects of a marriage. That _______&________ and everyone should consider these marriage vows as an irrevocable act, just as permanent and final as the breaking of this glass will be unchangeable.
The glass that will be shattered also reminds us how fragile life and love can be. That sometimes a single thoughtless act, breech of trust, or marital misstep can damage a marriage in ways that are very difficult to undo, just as it would be difficult to undo the breaking of the glass.
It serves as a reminder of the sanctity of marriage, and that the love of the bride and groom should last for as long as it would take to make the glass perfectly whole again. It also symbolizes the transforming experience that marriage creates, leaving _______&________ forever changed.
_______&________ , because you have chosen one another and pledged to love each other for all the days of your lives, before this loving community of family and friends, by virtue of the power vested in me through the Marriage Act and the Province of Ontario, it is my honor to pronounce you husband and wife! You may seal this union with a kiss!
Then the officiant addresses the groom: please break the glass with your right foot.
Love Letter & Memory Box CeremonyOfficiant
: _____________, have chosen as a couple to include a Love Letter & Memory Box ceremony.
This box will soon contain a bottle of wine, two glasses, and a love letter from each to the other. The letters describe the good qualities they find in one another, the reasons they fell in love, and their reasons for choosing to marry. The letters are sealed in individual envelopes and they have not seen what the other has written. You have created your very own "romantic" time capsule to be opened on your 5th wedding anniversary.
I recommend that you keep the box in a place of honor prominently displayed in your home as a constant reminder of your commitment to each other.
Officiant
: ______________should you ever find your marriage enduring insurmountable hardships before your 5th anniversary of marriage, you are to, as a couple, open this box, sit and drink the wine together, then separate and read the letters you wrote to one another when you were united as a couple in marriage. By reading these love letters you will reflect upon the reasons you fell in love and chose to marry each other here today. The hope is, however, that you will never have a reason to open this box. And if this is the case, you are to open this box to share and enjoy on your 5th year wedding anniversary! [/p]

Officiant: ___________, you may now seal the box.

NOTE: The officiant drives the first nail, then the best man and maid of honor, followed by the bride and groom nail the box shut. You can also have each member of your wedding party step up, drive in one nail to help



BLESSINGS

(1) May the glory which rests upon all who love, bless you and keep you, filling you with happiness and a gracious spirit. Despite all changes of fortune and time, may that which is noble and lovely and true remain abundantly in your hearts, giving you strength for all that lies ahead.

(2) May every desire you have for your love be fulfilled, and may you be given the vision
with which to clearly behold one another, the listening with which to perceive one another most genuinely, and the endless generosity of spirit with which to nourish one another's soul and sweetly keep the promises you make here today.

(3) __________ and ___________, love set you on a path towards each other and to this moment. From the rich encouragement of your affection, may you be inspired to open your doors to the needs you perceive in the world. In the embrace of mutual respect, may you each complete the unfinished pattern of your true selves. May you strive all the rest of your lives to meet this commitment to each other with the same love and devotion you now posses.

(4) Now may the love which has brought you together continue to grow and enrich your lives.
May you meet with courage any problems which arise to challenge you.
May your marriage be one of ever-growing depth and meaning.
May you always respect the uniqueness of each other.
May your communication always be clear and honest and may your relationship always be one of love and trust.
May the happiness you share today be with you always and may every word you have pledged here be a living truth in your lives.

(5) Blessed be the Light that has guided your souls to the threshold of this new day. Blessed be the Journey you walk as one, sharing your love with the world. Blessed be the Stillness that refreshes your souls and awakens God's Dream in your hearts. The Shield of the God of Life be yours. The Compassion of the Loving Christ be yours. The Wisdom of the Living Spirit be yours, now and evermore." Amen

(6) May the LORD bless you and keep you;
May the LORD let His face shine upon you and be gracious to you;
May the LORD's favor rest upon you, and forever give you His peace. AMEN